On October 1, 2019, the celebration for the 70th anniversary of the founding of the People's Republic of China was held in Beijing's Tiananmen Square. The grand parade and mass parade made the Chang'an Street flow more than 100,000 people. In this big day, how did the hundreds of thousands of soldiers and civilians solve the problem of going to the bathroom? Liri Tent can answer you.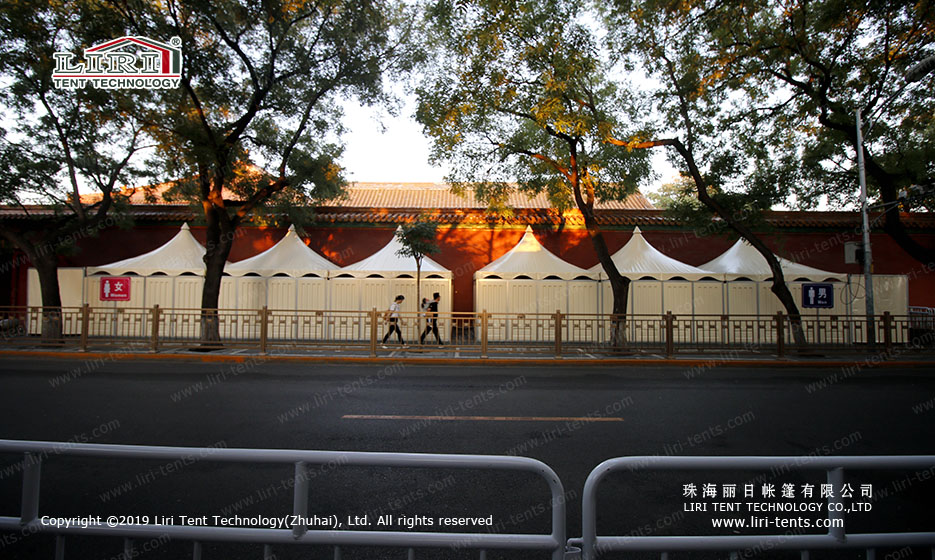 In order to meet the needs of the 70th anniversary of the New China military parade, Liri Tent cooperated with Beijing Jinghuan Group in Chang'an Street, and built 329 tent toilets in 82 areas in the core area and the mass gathering area. All tent toilets are made of aluminum alloy assembled structure, uniform beige ABS hard wall and beige PVC roof cover. These brand new tent toilets are all produced in advance in the Liri Tent factory and transported to the site for construction, combined with the professional sanitary ware equipment of Beijing Jinghuan Group. In just a few days, Liri engineering team completed the construction and demolition work of this tent and bathroom, and successfully guaranteed the parade celebration and mass gathering activities on Otc.1.
Liri Tent uses its own strength to contribute to the logistics support for the 70th anniversary of the new China. We are fortunate to participate in this historic and grand celebration, to add strength to the motherland in front of people all over the world. This is the glory of all Liri employees, thanks to all the efforts of Liri fellows! At the same time, We also offer the best wishes to the motherland, sincerely hope that our great motherland will prosper and prosper.