At the same time of preventing and controlling the coronavirus, around China has begun to resume work and production. In order to assist Wuhan, ZHUHAI LIRI TENT Technology Co.Ltd actively responds to the central and local government's strict requirements of the company resumption of work and production, taking the lead in playing a pioneering role and actively do well in preventing and controlling the epidemic and resumption work and production.
On the morning of 10th February, the first day of resumption, Liri Tent has no fear and move forward when we face to the coronavirus. Under the command of a group of preventing and controlling the epidemic, we adopt the emergency plan and measurements of preventing and controlling, actively do good work on the disseminate information of preventing and controlling. Ensure the working direction of preventing and controlling, make sure the safety of resumption work for Staff.
Before the work resumption, the leading group of Preventing and controlling epidemic has conducted comprehensive many kinds of investigations on the employee who was to resume work. In accordance with national regulations, the returning employees should be isolated in accordance with relevant regulations. In the meantime, Completely the comprehensive disinfection of each area of the Factory. Regular disinfection every week until the elimination of the epidemic.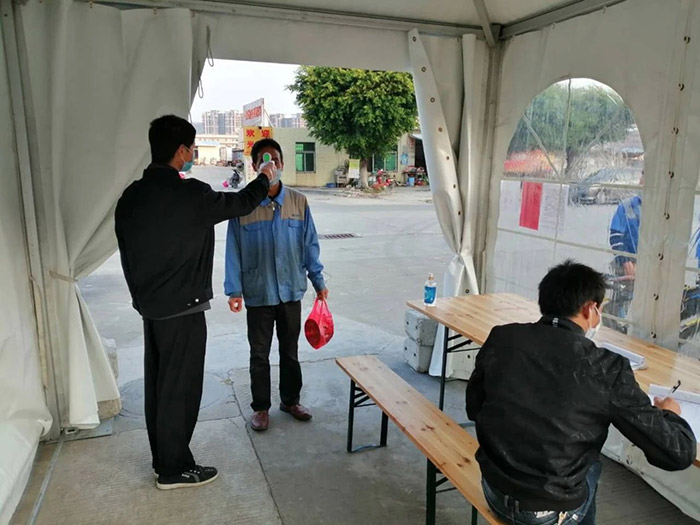 Carry out relative work which Enterprise in the period of work resumption, Prepared Enough Face masks, thermometers, Disinfection Alcohol, Hand sanitizer, disinfectant powder, gloves and other materials of epidemic prevention and control materials, To make well preparation for work resumption and production. Set up tents in the factory for individual inspection area, measure temperature of personnel entering and leaving, register personnel information, and distribute epidemic prevention supplies such as face masks. Until now, the company's resumption rate has recovered by 70%, and production capacity has recovered by 50%.
As we know that, in that first day of work resumption, LIRI TENT's The first batch of tent building materials of Wuhan Medical Waste Treatment Center was urgently sent to Wuhan, At the same time, we provide vehicle security checking tent for epidemic prevention on highway crossings, national roads, provincial roads, and village roads throughout the country. Build a windproof and rainproof, sturdy "security fortress" for the front line staff. At the same time, Liri tent also donated 100,000 yuan and 45,000 masks through the Red Cross of Doumen District, Zhuhai City, These materials will be used for epidemic prevention and disaster relief to help Wuhan city with practical actions and to help China win this virus campaign.