On 29th April 2016 Tangshan International Horticultural Exposition had its grand opening in China's northeastern Hebei province which will last for 171 days. The expo demonstrates the vital role of greening cities with a theme of "City and Nature, Phoenix Nirvana'', highlight the concepts of fashion gardening, environmental protection, low-carbon lifestyles. Meanwhile, it advocates the green lifestyle under harmonious co-existence between humanity and nature. There are over 50 countries in the world attending this Exposition and it is expected that over 10 million people visit it.

Zhuhai Liri Tent Technology Co., Ltd, appointed as the outdoor exhibition equipment supplier for the Tangshan International Horticultural Exposition 2016, offers over 20,000m2 of outdoor equipment for this grand event, including high-quality aluminum clear span tent halls, steel barricades, portable barricades, and so on.
Corresponding to the landscape and the theme of each garden in the expo, Liri Tent tries its best to provide the best solution for its years' experience, professionalism, and innovation. Liri Tent makes another breakthrough again to offer various of colorful expo's logo and printings on the tent covers and sidewalls. Not only presents the theme of the expo, but also advertises for this grand Horticultural Exposition.
Liri offers high-quality clear span tent halls mainly used for security checkpoints, break areas for staffs and volunteers, ticket offices, police offices, and so on.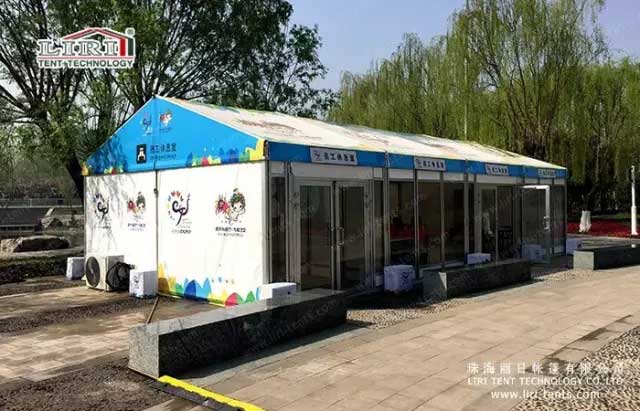 In order to coordinate the tight construction schedule for the expo, Liri Team devoted to the project, worked days and nights with different shifts. Finally, we completed the installation ahead of time, and ensure the expo goes on the wheel.
With Liri Tent's high-quality tent products and excellent services, Tangshan International Horticultural Exposition 2016 presents a 3-high (high standard, high level, and high quality) gardening event to the world.