Lots of people like swimming and cooling themselves off when summer comes. However, there are few swimming halls that can meet the needs, some are not open to the public and some built outdoor are often affected by the weather. Therefore, covering the swimming pool with a shelter can help a lot.
Swimming Pool Canopy Tent will be the best solution to solve the weather impact of the outdoor swimming pool. Swimmers can say goodbye to the sun and enjoy swimming under shelter all year round regardless of the weather. The PVC fabric used for Liri Tent is not only anti-mildew but also anti-UV to a certain degree, which can shelter from the wind and rain, and protect from the sunlight. With this huge parasol-like canopy tent, swimmers will feel more secure and have more fun.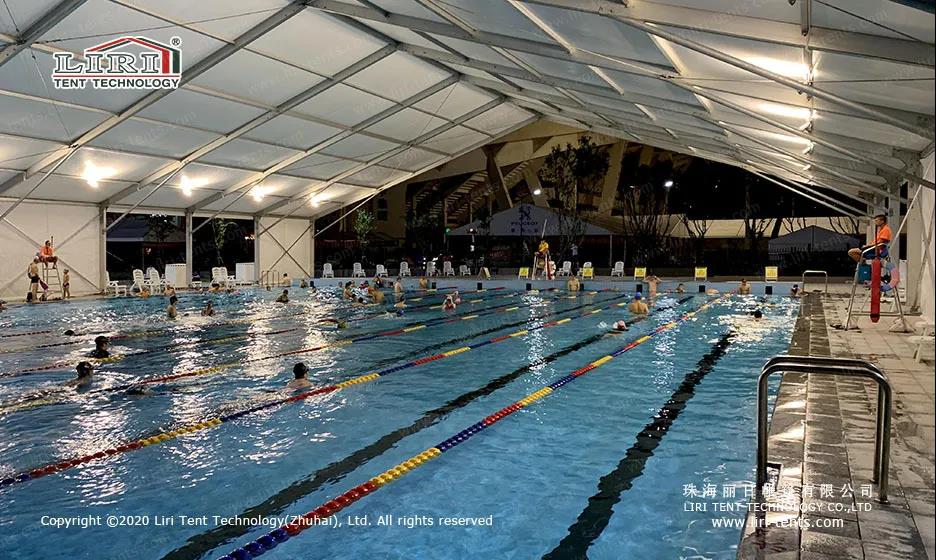 If you are adding a canopy to the existing swimming pool, there is no need for the sidewalls or curtains. The open design can give you a wider view and good ventilation. Then swimmers can enjoy swimming outdoor without having to be exposed to the sun, and enjoy the scenery while chatting with friends on the poolside.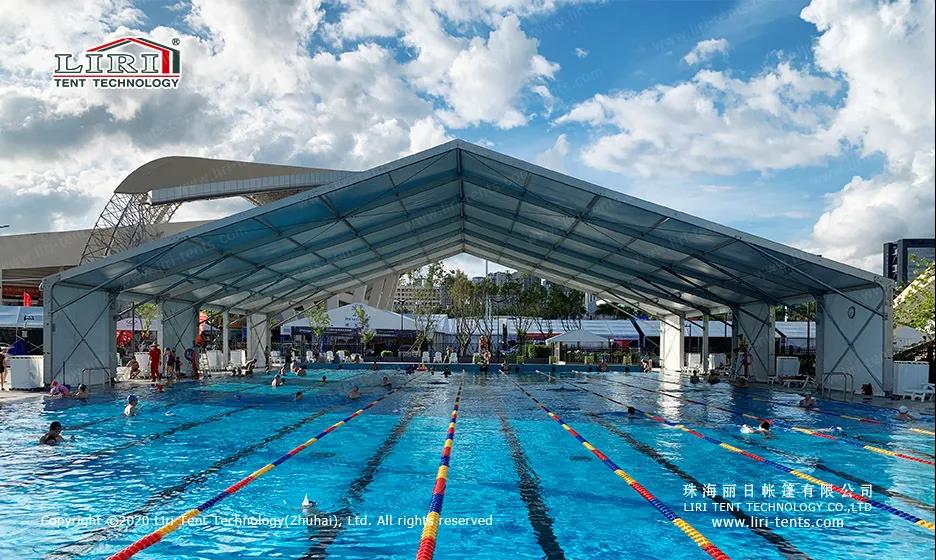 Recently, Liri Tent provided a canopy tent to cover the outdoor swimming pool of a sports center. It is a prefabricated tent structure with a size of 30x30m. It only occupies half the size of the swimming pool, and let the other half remain open-air so that there will be more options. The half-open half-closed sides give better ventilation and a wilder view.
We can also provide a variety of structures in different shapes, such as A-shape frame tent, polygon tent, curve tent, etc. Tent size can be tailor-made according to the standard swimming pool specifications. The swimming pool canopy tent can be equipped with block-out PVC fabric or hard walls if you want more privacy. If you want it clear, you can choose the transparent PVC or glass walls. Doors and windows, air conditioning, exhaust fans, lighting, and other facilities can be installed to build a complete swimming pool hall.
The prefabricated structure has the features of flexibility, inclusiveness, and rapid installation. Both clear span width and length can be expanded or reduced at any time. Whether it is for long-term or temporary usage, the swimming pool canopy tent from Liri can provide a better space solution, and give swimmers more fun regardless of the weather.